Superstarter Skills is an inclusive programme of skills-based fun for children of all abilities, across all primary school levels (Years 1 – 8).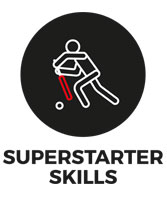 It's an easy-to-understand set-up-and-play method for involving children in a range of fundamental development skills – such as throwing, catching and striking a ball.
The Superstarter Skills programme can be used to support Cricket Smart, a set of teaching and learning resources aligned to the New Zealand Curriculum and includes key achievement objectives, values and key understandings.
Teachers don't need to be cricket experts - little knowledge of the game is required to organise and run the programme.
YOU'LL BE BOWLED OVER BY OUR CRICKET SKILLS CHALLENGES!
Resources
Superstarter Skills card - Years 1-2
Superstarter Skills card - Years 3-4
Superstarter Skills card - Years 5-6
Superstarter Skills card - Years 7-8